This post contains an affiliate link. HoaP will receive a small commission to donate to Typhoon #Haiyan relief if you purchase any items after clicking one of these links. It costs you nothing extra, but allows us to donate funds to Typhoon #Haiyan relief and Village of Hope orphanage. Thanks for your support and God Bless!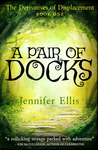 A Pair of Docks
by
Jennifer Ellis
My rating:
4 of 5 stars
HoaP would like to thank Jennifer Ellis for gifting us a copy of her book in exchange for an honest review. This review was first seen on Heart of a Philanthropist blog.
Derivatives of Displacement... This made me think the book would be a scientific approach to time travel (of course only theoretically). A Pair of Docks is about time travel. One of the main characters is a girl named Abby who is very scientific. This is evident in her thoughts throughout the book. The author includes scientific theory often - leading me to believe Jennifer Ellis is a student of science herself. Abby has a twin brother Caleb and an older brother Simon. They live next to Mrs. Forrester and her autistic son Mark. Mark loves maps. (That is important in the story). Mark seems a bit of a scary character as he is described as large and bulky and he throws himself against the glass scaring Abby as she walks by his house.
Abby and Caleb follow Simon to the forest because Simon is acting rather suspiciously. He steps on a rock and disappears. Abby and Caleb of course have to find out what happened. They follow in their brother's footsteps and are swept away to a futuristic society. Someone in the future mistakes the three for the computer repairmen that he is waiting for. Simon uses his smarts to figure out the computer problem. Then the three come back to their present timeline.
The next time they use the rocks to time travel, the future is much different. They go to a lab that seems to have no doors and is set up like a labyrinth. Abby intuitively knows how to get to where they need to be. When they get to the offices they realize someone is trying to nab them. They escape and come back to their present once again.
There are many back and forth trips to the future- all being different environments, times, and places. The ending leaves the story open for a sequel. That was a bit disappointing because I wanted to know how it ends and I wanted to know right away. Of course, that means the author did a good job. I didn't want it to be over yet...
The threesome enlists the help of a man who looks like an elf. This is where they learn the story of the rocks and that they must have witch's blood in their family tree. The part I didn't care for too much is that we find out about halfway through the book that the rocks (often referred to as alive) are the souls of witches who gave up their lives to make the rocks. There is no sorcery or evil witchcraft in the book, just a way to explain the rocks and how one uses them as a portal to the future. In order to use the rocks, one must have witch's blood in their family line. The children learn almost at the end of the story that they can't trust anyone. Is the person that they thought was bad really the bad guy after all? Is the guy they trusted someone they should fear? I am sure the next book in the series will explain this much better.
If you are looking for a book to expand your imagination, A Pair of Docks will be a good fit for you. Also, it will help expand your vocabulary. There was even a word or two I had to look up.
HoaP received a copy of A Pair of Docks in exchange for an honest review. If you would like HoaP to review a book or product for you, please contact us at philanthropicHR@yahoo.com.
View all my reviews on Goodreads.