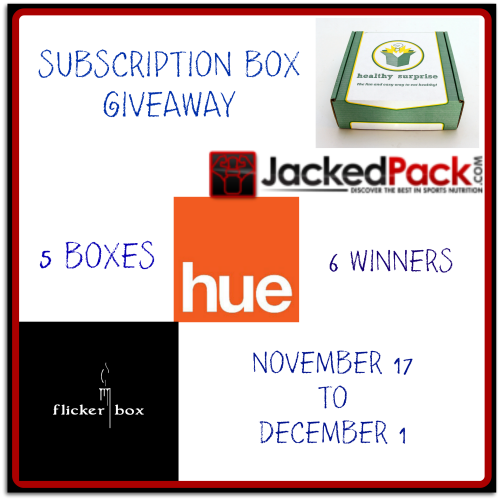 Hosted By:
Co-Hosted By:
Prizes:
1 winner will receive a 1 Month Subscription of Flicker Box
1 winner will receive a 1 Month Subscription of Square Hue
About Flicker Box
If you love candles then this box is for you. Every month you get a curated box of artisan candles made right here in the US. All beautifully hand made.
About Square Hue
Every month you will get 3 full size bottles of nail polish. They are "5-Free" Clean which means they do NOT contain Formaldehyde, Toluene, DBP, Camphor or Formaldehyde Resin. They are also made right here in the USA which is awesome.
About Healthy Surprise
Healthy Surprise delivers healthy snacks right to your do every month.
You never have to worry about getting anything that isn't good for you because you will know that they are
always natural, gluten free,vegan, soy free, corn free, and wheat free.
About JackedPacked.com
They help you discover the best products in sports nutrition and they have three different sized packs. The Lightweight, The Heavyweight, and the Heavyweight XXL.
They also give $10 vouchers to their members every month to use in their store. So if you find something you like, or already know what you like, you can buy the full-size version. They also have gift subscriptions (in two sizes) and month-to-month options, as well as 3 and 6 month options at discounted rates.
Thank you for joining us. Everyone wants to win a prize, and this just may be your chance! I do not get anything for having these giveaways for my readers, but I like to enter contests so I assume you do too- especially since you are reading this. I offer contests/giveaways to attract new readers to Heart of a Philanthropist. If you like them, and want more coming, then share with your friends and family so I can continue to offer them. Other bloggers who include me have requirements, such as "You must have 2000 original users monthly in order to participate." That means a few things... In order to continue offering contests, I have to have lots of readers AND if I have lots of readers, there are more opportunities for you to enter! Thanks again for stopping by. Good luck, and God Bless!
Open to the US Only, 18+
Your HoaP is not responsible for prize fulfillment. My opinions are 100% my own and may differ from your own or even those stated in this post.