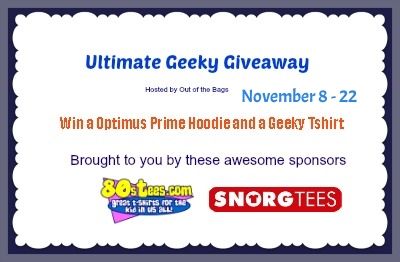 Prize:
1 lucky winner will receive:
1 Optimus Prime Hoodie from 80's Tees ($60 arv) review
and a choice of 1 T-shirt from Snorg Tees (up to $25 arv) review
Hosted by:
Co-Hosted By:
Heart of a Philanthropist

This giveaway is open to US only, 18+ and will end on November 22.
Thank you for joining us. Everyone wants to win a prize, and this just may be your chance! I do not get anything for having these giveaways for my readers, but I like to enter contests so I assume you do too- especially since you are reading this. I offer contests/giveaways to attract new readers to Heart of a Philanthropist. If you like them, and want more coming, then share with your friends and family so I can continue to offer them. Other bloggers who include me have requirements, such as "You must have 2000 original users monthly in order to participate." That means a few things... In order to continue offering contests, I have to have lots of readers AND if I have lots of readers, there are more opportunities for you to enter! Thanks again for stopping by. Good luck, and God Bless! .
HoaP
did not receive compensation for promoting this event and is not responsible for prize fulfillment. My opinions are 100% my own and may differ from your own or even those stated in this post.